It's here! The long-awaited version update of myGCP has arrived.  In this blog, we'll visit all the changes and updates made to myGCP, and what you can expect from it moving forward.
What's the difference between a version and an update?
Our regular updates are small tweaks to the myGCP software that improve particular features, make small changes and incorporate things like spelling changes, content improvements, etc.
The latest version update is exciting – it's upgrading the existing platform with a newer, more efficient version of myGCP. Here are the changes we're implementing.
We've introduced Trustpilot
Part of our mission is to really listen to and make changes based on our customers' needs and desires. We want to hear from you: what do you like about myGCP? How was your learning experience? How was your contact with our customer service desk? We've opened a Trustpilot account to allow all users, in all countries, to score our performance and share their experiences.
Welcome to myGCP.world
We have a separate learning environment for international clinical research professionals: myGCP.world When working in and from the Netherlands, you need to be aware of the Dutch laws and regulations, so myGCP.nl is the place to be.
When you're only working on clinical trials abroad, you don't need knowledge of local Dutch laws, so myGCP.world is there for you. We added a language (US English) for future plans and added a regional check to help you choose the correct learning environment
Module page updated
The training page got a bit crowded. From now on, you will only see the licenses that you own on the training page. When you click on the training module, you see all modules belonging to that training license on one page. Want to add a license? Just click on the catalog button and add your received code. Or go to the webshop.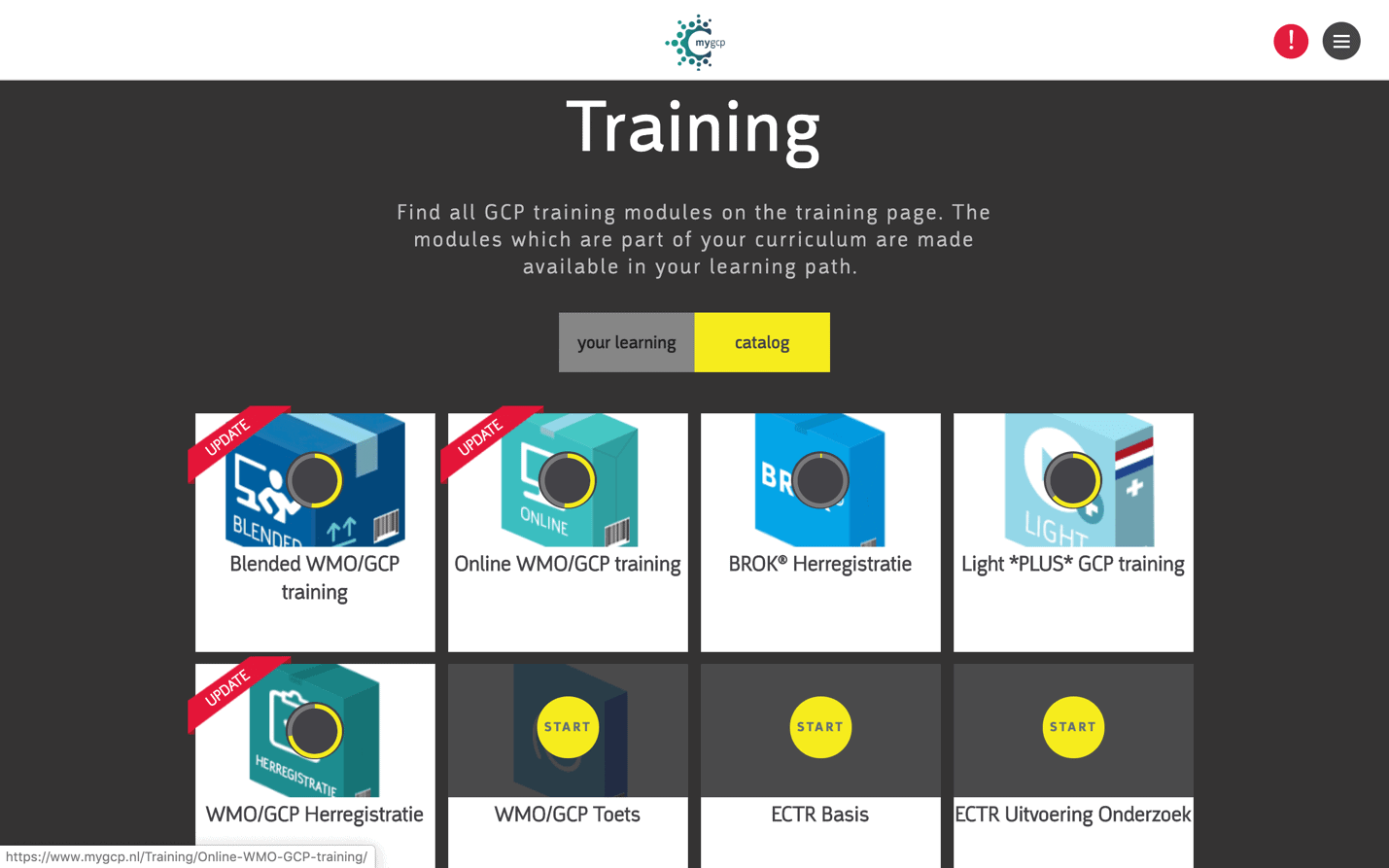 Protecting your privacy
 Our privacy policy has been updated and is easier to find via your profile page, so you know how we collect and store your data, and how we use it. Do you wish to know which data we collected? Then request your user data via the profile page.
Change log and training version
 We've updated the system to now show on your certificate which version of your training you completed. The summary of content changes per version is shown in the ChangeLog. Easily access the change log via the exclamation button in the right upper corner. Having the version number on your GCP certificate makes it easier to prove you're compliant when it counts.
ECTR is coming.
In October, we have launched a new training on the European Clinical Trial Regulation, the ECTR. The training is developed in collaboration with DCRF and 70 experts from the field and translates the future ECTR into your day-to-day practice. The regulation is planned to go live in Europe in 2020 and has a massive impact on the way we prepare and submit clinical trials of medicinal products. You can find the ECTR e-learning in the catalog on the training page and be ready to start. Do you want more information? Contact our account managers or customer service department.
Content updates and changes
While our exciting version update is big news, we're also still dedicated to ensuring that we have quality content. Content updates are ongoing with dedicated content managers now checking and updating content and courses continuously. Remember, if you see a mistake or typing error, or have a brilliant idea for new content, please email content@gcpcentral.com.
Our next major update on content, implementing changes to regulations, processes, and templates used in clinical trials is planned for November 2019 / early December 2019.
Have you checked out the latest version of myGCP?  Why not head over to myGCP.nl or myGCP.world and see how these updates affect you. Questions? Contact us and we'll be happy to talk them over with you.