just time by yourself to learn. That is why we organized this year the GCP Central Summer school. A week with training sessions and master classes on your level. For starters with ambition and for experienced professionals who understand that standing still can be like going backwards. View the program and sign up.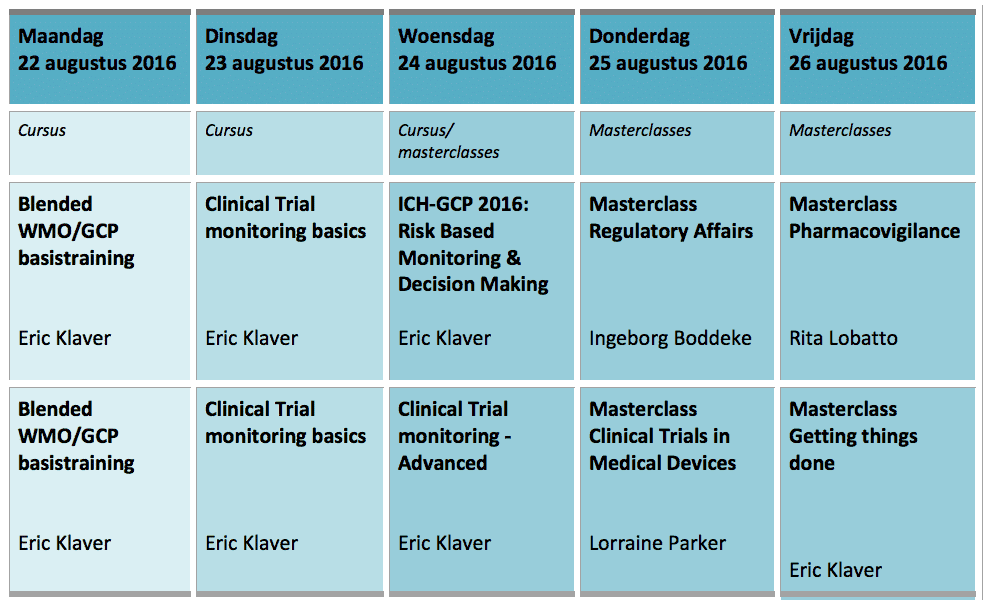 * The program is subject to change.
How does it work?
You choose your package seperately to match your preferences. For example, you can followa Master class on Wednesday, Thursday or Friday. Or the Clinical Monitoring course on Tuesday and Wednesday. You combine the WMO/GCP training with the Monitoring course to be fully ready for a job as a CRA. Can't choose? Then take all the coursesSummer school.
The courses and master classes in more detail:
The WMO/GCP basic training: Monday 22 August 2016
Are you looking for a job in clinical research? Or do you want to increase your knowledge about clinical research? Then join the blended WMO/GCP basic training on 22 August. We offer you an optimal mix of online and in the classroom, prior to the training day we'll go through the 7 online training modules in the online learning environment myGCP. In the classroom training you go deeper into the matter and you have the opportunity to discuss ambiguities found in the online training or in daily practice with experienced trainer Eric Klaver.
The Clinical Trial Monitoring course: Tuesday 23 and Wednesday 24 August 2016
Are you interested in a job as a Clinical Research Associate?Have you been asked to monitore clinical research in your hospital? Then the Clinical Trial monitoring courseis suitable for you. This training focuses on the daily work of a monitor. How are the rules and laws which we learned in the WMO/GCP basic course practiced? You learn from trainer Eric Kalver all the skills you need in the job as a monitor and catch up on the future of monitoring in the 2 exclusive master classes on 24 August.
Master class ICH-GCP 2016: Risk-Based Monitoring & Decision Making
At the end End of 2016 ICH-GCP will be 20 years old. The biggest change is the introduction of Risk Based Decision Making as the basis for the design and output of clinical research. To manage risks properly, it is crucial to think carefully about how your decisions are based on risks. Here we go in this Master class to work with each other.
Master class Advanced Clinical Trial monitoring
This master class goes deeper into the course CRA. How do I make certain matters negotiable on site? How can I support the recruitment targets? How do I manage the trial timelines and deal with quality issues? How do I successfully implement risk-based monitoring in the execution of my trials, without losing contact with my site? Eric Klaver helps you from his years of experience as a CRA and consultant to overcome these challenges.
Master class Regulatory Affairs
The master class Regulatory Affairs introduces the CRA or clinical research professional in the role of RA. What are the starting points for file structure? What is the registration process? You will find out in this Master class.
Master class Clinical Trials in Medical Devices
What is the difference in the design and implementation of medical device & drug studies? From the start until the end of the study there are differences, not only is there other regulations (ISO14155, MEDDEV, etc.), but there are also differences in requirements for the design and export of a study with a medical device. . In the master class on Thursday, August 25, Lorraine Parker from Parker CSS takes you into the world of medical device research. Several questions will be discussed and answered: What different forms of clinical research are there? How can I determine whether clinical research is needed for the medical device in question? Do I have to submit my research to an Ethics Committee and IGZ? And which documentation do I have to send? How can I demonstrate that there is sufficient clinical data to meet the safety and performance requirements of the medical device? Learn in this Masterclass.
Master class Pharmacovigilance
The collection and reporting of adverse events (AE, SAE, SUSAR) is an important aspect of clinical trials. Why is it so important that you, as a researcher, document the causality on the SAE form? Who processes these forms? And which reports must be reported to the authorities? In the Pharmacovigilance Masterclass at the GCP Central Summerschool, Rita Lobatto goes deeper into this.
Getting things done!
In addition to knowledge about laws and regulations and your knowledge of the protocol, your "soft skills" are essential for your success in clinical research. In this Masterclass you will work with motivator Eric Klaver to work in a client-oriented way with the site, challenge your time management skills and work on your motivation and change skills: how do you motivate your team or your research site? Go out and make things happen!
You don't want to miss this right? Sign up immediately.
Cost
The cost of the Summer school and loose courses are:
€ 99,-  a master class of 4 hours (on Wednesday, Thursday and Friday)
€ 175,-  for 2 master classes of your choice (on Wednesday, Thursday and Friday)
€ 349,- for the blended WMO/GCP basic training: Mon 22 August
€ 349,- for monitoring the clinical course: DI 23 and WED 24 August
€ 695,- for the WMO/GCP basic training + clinical monitoring course: Mon to WED
€ 995,- for the entire course week Monday to Friday
€ 1345,- for the entire course week + 4 nights (with breakfast)
This includes:
lunch, coffee/tea and soft drinks
1 year access to course materials via the online learning environment myGCP
recognized WMO/GCP certificate (only for blended WMO/GCP basic training)
7 online training modules (only for blended WMO/GCP basic training)
certificate of attendance
The Summerschool takes place at our own training location in Amersfoort. The morning sessions start at 09: 00h and end at 13: 00h, the afternoon sessions start at 13:30 and end at 17: 30h. From 13: 00h to 13: 30h a lunch is served where all participants can join.
Sign up directly to be guaranteed a place. Or call/email our customer service for more information.
We look forward to seeing you in August. Until then?