On the 10th and 11th of February, GCP Central (alongside Seuss+) attended the European Conference on Clinical Research (EUCROF) hosted by the European CRO Federation. Representing GCP Central were Marieke Meulemans and Anouk Koers and from Seuss+, Sabine Hutchison, and Kieran Canisius.
GCP Central at EUCROF 2020
It was a fantastic opportunity to showcase our collaboration and show exactly the kind of impact we are having on the industry.
The most important message we wanted to deliver was how much of an influence continuous learning has on the future of clinical research. We know that there is a better way to learn, and high-quality clinical research starts with being continuously up-to-date.
Did you know we have an eBook on this very thing? Continuous Learning is the future and we are at the forefront of a movement to learn better, retain better, and make clinical research better.
We Learned 3 Key Industry Trends
1. Cooperation
One of the most important things we discovered at the conference is that there is an emphasis in the industry on cooperation and joining forces. Expanding your network is now more than ever considered a crucial move in broadening your resources and information exchange is vital.
The EUCROF conference was the most interactive conference I have been to so far. All attendees and exhibitors had a genuine interest in meeting new people, doing business and exchanging best practices.

– Marieke Meulemans, GCP Central Founder & CEO
2. Technology movement 
The industry is moving towards using more technology, not only for collecting, storing, and using data but also for online training. We were excited to demonstrate this with our myGCP learning platform, where we embrace convenient and continuous learning and the concept of always being up to date with the latest changes and information.
Something that struck me was the quote: "Research infrastructures make science happen." Researchers need to have easy access to information so they can test their ideas, make their lives easier, and more importantly, make life changing discoveries

– Anouk Koers, Account Manager GCP Central
3. Saving time, saving money
Saving time, saving money, and proactively moving with industry changes was a huge trend, not only at the event but also from our own experience.
I was impressed by the sense of partnership and looking for creative solutions to work together. More and more companies are realizing they do not have to go at it alone, and are tapping into their network and utilizing the strengths of partners.

– Sabine Hutchison, CEO Seuss+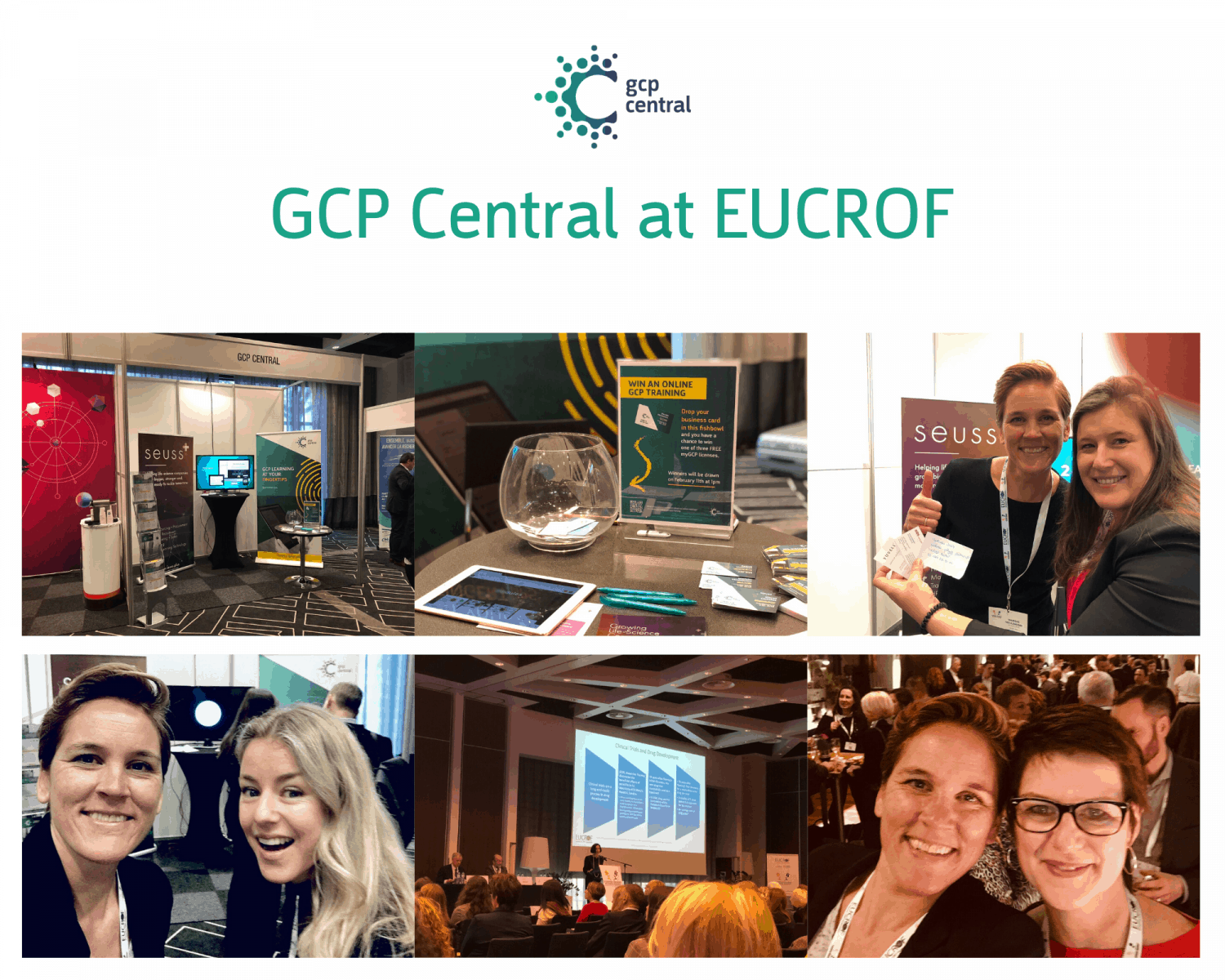 Our First Fishbowl Contest
We believe that GCP learning deserves more, as its the basis for qualitative and accepted clinical research. We believe in this so much, that we held a giveaway on the final closing day of the show. Three lucky winners received a full one-year license key for one of our online GCP training courses.
We really enjoyed hosting this contest and being able to give back to the community to prove that continuous learning is the future of education. Keep on the lookout for more similar initiatives from our Amsterdam team.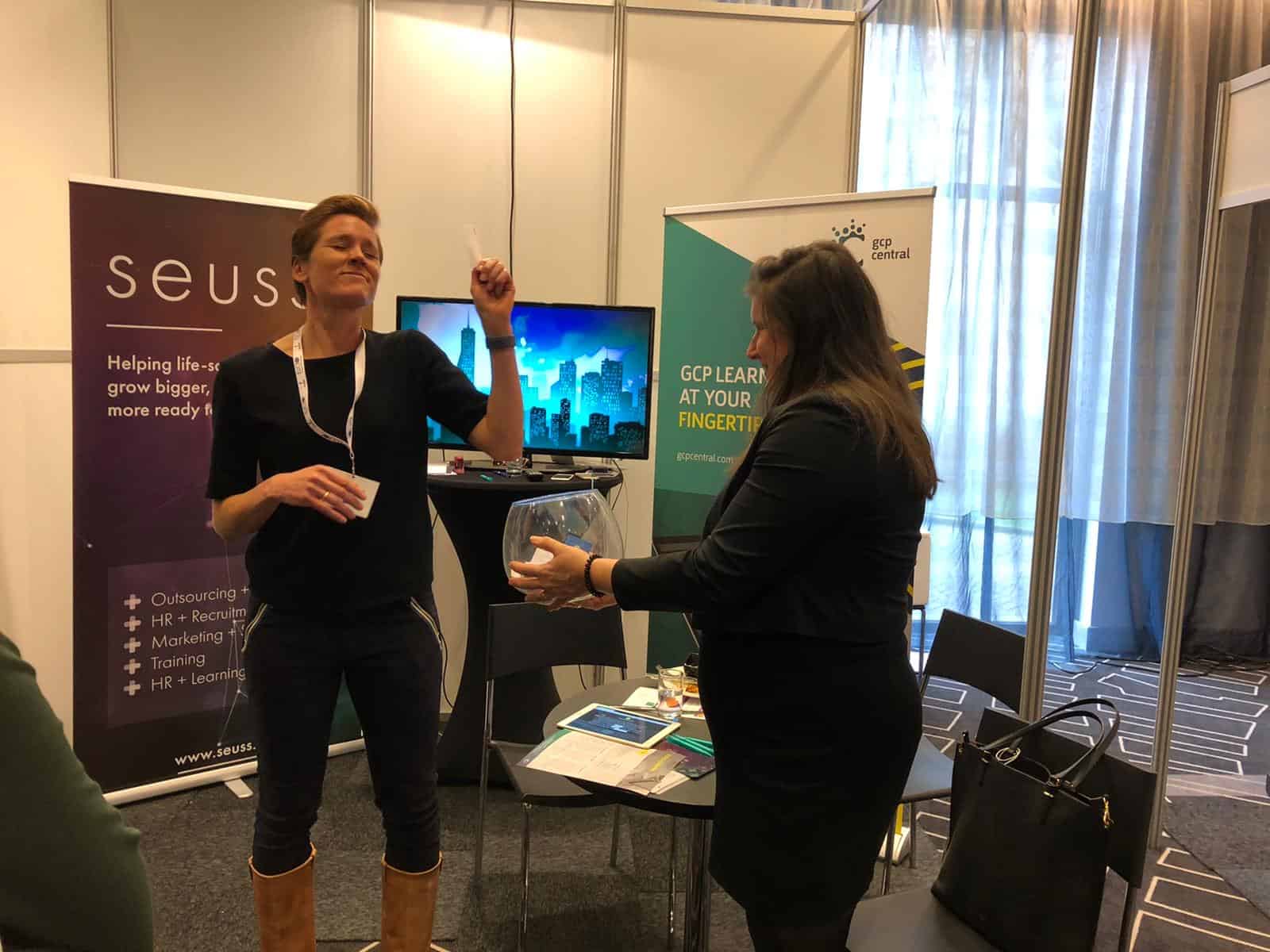 In Conclusion
Overall, our booth was well-visited from people from many companies and organizations. GCP Central was well represented, and we know we demonstrated how much of an impact continuous learning can have on the clinical research and life sciences industry.
Want to read more? Here's a great article from ACRON over the conference (Dutch).
Want to chat with us about the EUCROF conference, or about the impact myGCP can have on your learning environment? Get in touch and discover for yourself how continuous learning is changing life sciences.