This is the second in a series of articles where GCP Central goes in-depth into the challenges, learnings, and critical findings of implementing the new European Clinical Trials Regulation (EU CTR). In this installment, we look at transparency and publishing clinical trial reports.
Reporting Clinical Trials in The European Union
It is essential that the results of clinical trials are publicly available. To ensure clinical trials (and their sponsors) are trusted, but most of all, to prevent participants from unnecessary studies. Let us find out where data from clinical trials within the EU can be accessed.
Historically, not all clinical trial results were published. Even though there has always been a requirement in the Clinical Trial Directive (CTD) to publish a report within one year after the end of the trial. These reports should be visible in the EU Clinical Trials Register (EUCTR). This abbreviation should not be confused with the EU Clinical Trials Regulation (EU CTR)
The EU Clinical Trials Register contains information on interventional clinical trials on medicines conducted in the European Union (EU) or the European Economic Area (EEA) that started after May 1st, 2004. It is the primary register acknowledged by the World Health Organization (WHO). With the implementation of the Clinical Trial Regulation, which superseded the CTD, the function of the EU Clinical Trials Register will be replaced by CTIS (Clinical Trials Information System).
Current Publication Rate – Who Doesn't Share Their Clinical Trial Results?
Non-reporting of clinical trial results is a global problem, and many initiatives are trying to overcome this problem. Or determine how 'big' the non-reporting actually is. In Europe, the EU Trials Tracker is such an initiative. It was created by several academic researchers working at the Evidence-Based Medicine Data Lab, University of Oxford, UK. It identifies commercial and non-commercial clinical trial sponsors with the best and worst records for sharing trial results in the EU Clinical Trials Register. (Source)
The publication rate is impressive for most pharmaceutical companies, with most scoring a 100% reporting rate. This is even more impressive when you consider that big names like Novartis and GSK have more than 1000 trials in the register.
While many universities report 80 to 100% of their trials, some research institutes and universities publish less than 50% of their outcomes. A failure to publish trial results leads to publication biases, which has raised concerns about harm to patients, researchers, and doctors.
Ethical Considerations on Data Reporting.
Failing to publish results is unethical. Researchers could decide to run a similar trial (because they were unaware it had been done before), which unnecessarily expose patients or volunteers to trial activities. This could have been prevented with the publication of previous trial results.
The Clinical Trial Regulation and the CTIS system aim to change this and create more transparency about results.
The Role of the EU Clinical Trial Regulation and CTIS
Until now, transparency generally has not been necessary until the product approval stage, whereas the CTR requires transparency throughout the development process. The Regulation requires sponsors to upload and submit all data, including initial clinical trial application data and documentation, through CTIS. CTIS replaces the EudraCT forms (e.g., Annexes 1, 2, and 3) and will be used for safety reporting, modifications, notifications, corrective measures, and the publication of results.
As a specific set of Clinical Trial characteristics is directly available from the initial application, the publication of data is pushed forward in time: the first clinical trial information is made publicly available directly after the decision on the CTA by the Member States.
The CTIS system also automatically publishes all information at certain pre-set moments with exceptions for the following details:
Personal information
Commercially confidential information
Confidential communication among member states regarding their assessment;
And clinical trial supervision by member states
Sponsors can request deferring the publication of specific details to prevent them from direct publication at the pre-set moments. Deferrals should be requested directly at initial submission and approved by the Member States. The publication delay is standardized and set per specific trial categories, as shown in the table below.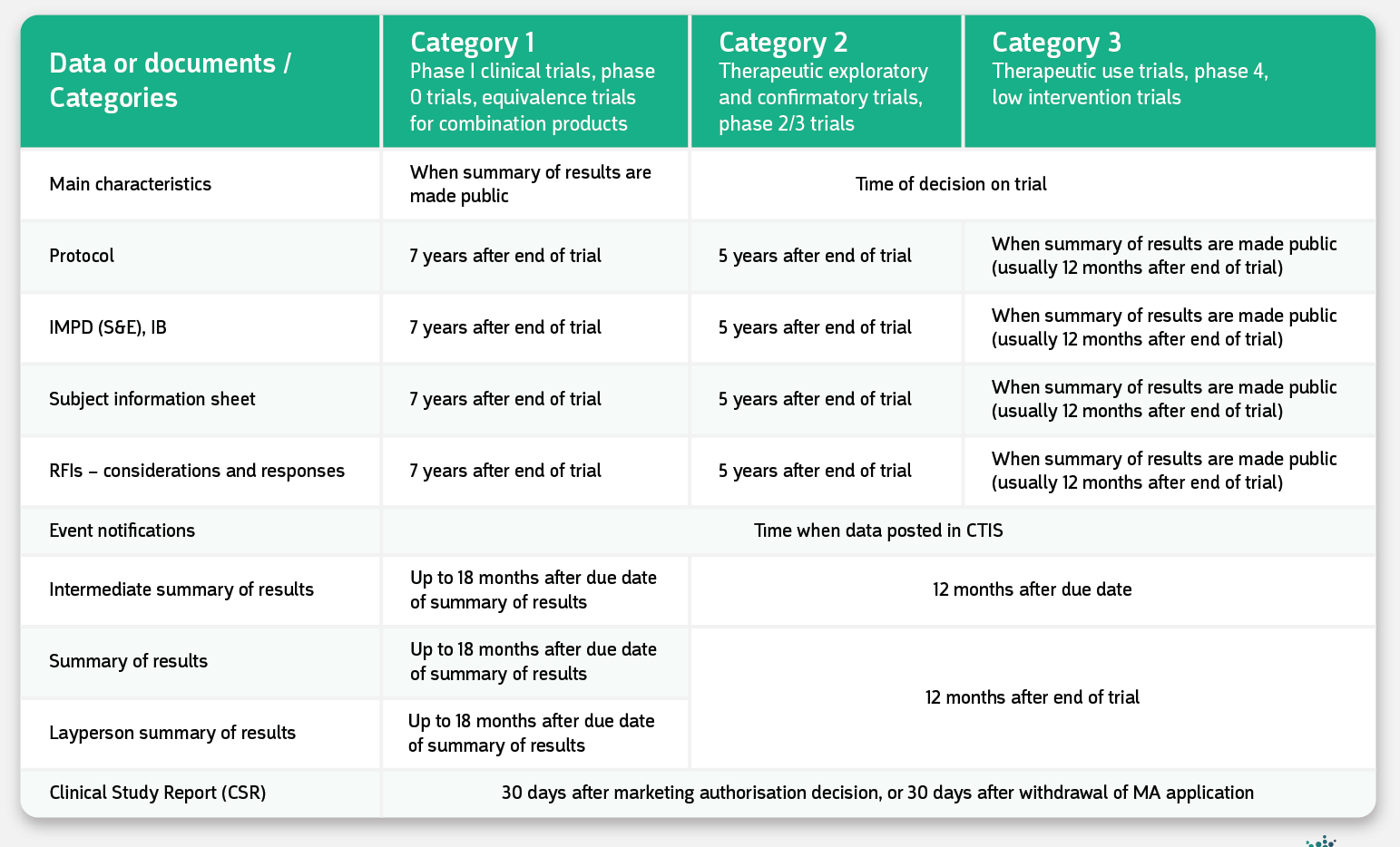 Is this a handy overview for you? Download your free copy of the Overview of publication deferral timelines EU CTR via this link.
The transparency rules within the CTR mean that CTIS enables EU citizens to access information on medicinal products directly. This creates greater public awareness, interest, and understanding of clinical trials
Information sharing and mandatory summaries of trial results, including a summary in accessible language, are required by the transparency rules of CTIS. It is a reporting obligation to have these. With this, the EU CTR aspires to overcome many of the limitations of the EU-CTD and the non-reporting of trial results.
Will this increase the number of reports within a year of the trial completion? We shall see when the first trials already submitted in CTIS come to an end.
Becoming EU CTR Ready
On January 31st, 2023, it becomes mandatory to submit new clinical trials with medicinal products in Europe through CTIS. As we highlighted in our previous article, the EMA offers a modular training program to prepare you for using the new system.
GCP Central also offers role-specific training courses on EU CTR through our myGCP learning portal. Our trainer, Marieke Meulemans, was integral in validating the EMA's CTIS training material and was part of the steering committee (DCRF) supporting the implementation of EU CTR in the Netherlands.
Our myGCP learning portal offers bite-sized learning moments designed to be completed in your own time, at your convenience. It has the added advantage of continual access to critical regulatory updates. This means that your training will always be up to date.
Are You EU CTR Ready?
CTIS and the changes to the EU CTR are not challenging. GCP Central has your training needs covered with our EU CTR Expert course. With comprehensive insights into the requirements of the new European legislation for clinical drug research, you will be trials-ready before the deadline of January 31st, 2023.
For in-company training solutions, contact us via this link. GCP Central is committed to making sure you are #EUCTRReady.